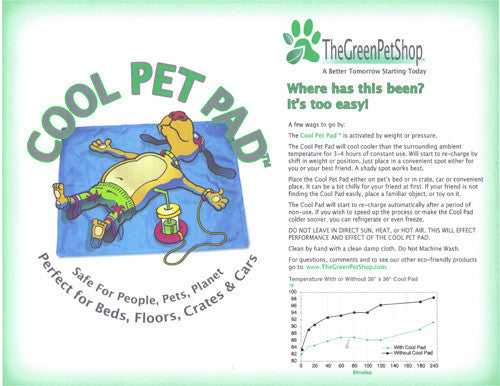 The Cool Pet Pad
The COOL PET PAD is a revolutionary new self-cooling pet cushion that cools without refrigeration, water or electricity. No maintenance, no mess.  
Automatically re-charges itself.
YOU DO ABSOLUTELY NOTHING!
No more hassle filling with water. No more mold. No more leaks. Place on the floor, bed, crate, car or outside. This is cool.
THE COOL PET PAD:
Helps prevent over heating & dehydration

Safe for People Pets Planet
The COOL PET PAD comforting cushion  has aided in the relief of pain, swelling, discomfort and stress. As well as the following conditions:
 
• Heat Stroke 
• Hip Dysplasia 
• Cushing's Disease 
• Allergies 
• Post Surgery 
• Senior Canines 
• Post Chemotherapy 
• Skin Condition

The COOL PET PAD is weight or pressure activated. As soon as your 4 legged friend lies down the cooling effect starts. It will last up to 3-4 hours of constant use and will last for years. It will re-charge itself automatically after a brief period of non-use. How cool is that? (Get one for yourself!)
---
More from this collection