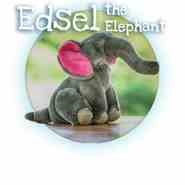 Fluff and Tuff Edsel Elephant
•Outer layer of ultra-plush
•Durable, thick mesh inner liner
•All seams are double stitched
•A large, durable squeaker is enclosed in a stitched fabric pouch
•For your dogs safety, the eyes are stitched and there are no hard edges
•Stuffing is new non-toxic polyester fiber
•Please supervise your dogs playtime; as while these toys are very durable, they are still a plush toy and therefore not indestructible.
•This toy is 12" in size.
Testimonials:
Best dog toys EVER. We have a German Shepherd and a Rottweiler
that absolutely obliterate EVERY toy they ever had. We've bought every
'strong and durable' toy on the market we can find, but Fluff and Tuff toys
are the only toys that withstand our dogs for more than a few
days/weeks/sometimes months! Honestly, try these toys, just for your sanity. While they're not indestructible -
I swear these are different. They're worth it! -- Caitlan R
just thought we would give you some feedback on the toys. Hilda and Hazel love to rip the stuffing out of toys. The Fluff & Tuff's have been in the house for several weeks and are still in one piece! This has never happened before with any toy. Great job!
Bill & Lynn F. - Chicago, IL
---
More from this collection